Second trip to NC, Conus marmoreus amazing variations
Second trip to NC, Conus marmoreus amazing variations (2006)
By David Touitou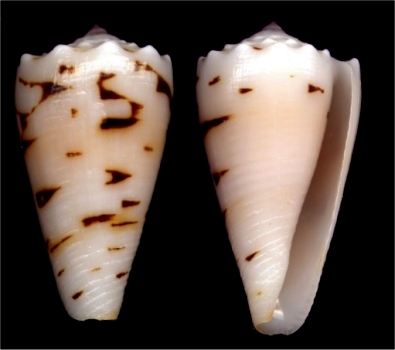 Conus marmoreus "bastard" 33.7 mm
Second trip to New-Caledonia - Christmas 2005 Family trip but still hunting for Cone shells... That's the second time I have the chance to travel to this very nice island. But this time it was not a pure shell
collecting trip... it was a family trip. I managed to collect some cone shells though.
The first shell hunting party was on the East coast, night scuba at deaph of 6-10m. It was supposed to be a good spot for rare cone shells such as Conus bullatus, Conus ammiralis and Conus crocatus. The shells were not out this night. After one hour and a half of shell hunting we came back with two amazing Conus tesselatus and a Conus litteratus.
After, we staid almost all the time near Bourail (West coast) and went three time scuba outside the reef at deaph of 50m. The first dive was the best and I managed to find a dead Conus aureus, pieces of another C. aureus and a dead small Conus floccatus. The next dive we changed spot and just found fragments of Conus ammiralis at 55m. The third dive showed nothing but a dead small Conus legatus at 30m. We were diving for the local variation of Conus moluccensis called "grondini" but we did not even see a fragment...
We managed to go to the reef once and we saw few coneshells there : huge Conus marmoreus on eggs, Conus textile, Conus striatus, Conus episcopatus, Conus vitulinus, Conus rattus and Conus imperialis.
Bourail is well-known for its surprising endemic variations of Conus marmoreus named suffusus and "bastards". But the place is now marine reserve and is protected. Fortunately on the 10 days of hunting there we caught many empty (dead) shells there, some are GEM specimens and are really amazing !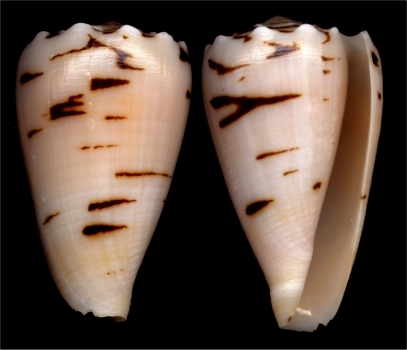 Conus marmoreus "bastard" 44.0 mm
We found also a nice Conus quercinus and Conus eburneus there. Conus quercinus was common and grouping while breeding. The spot owns of course the classic Conus marmoreus and the suffusus var. seems to be less rare than the "bastard" one.
On the last dive we were visited at 50m by a curious Reef white tip shark and a gray shark and while waiting at 3m we saw a big Bullshark one. During snorkeling I saw several leathal sea-snakes which always surprise you !
The country amazed us so much...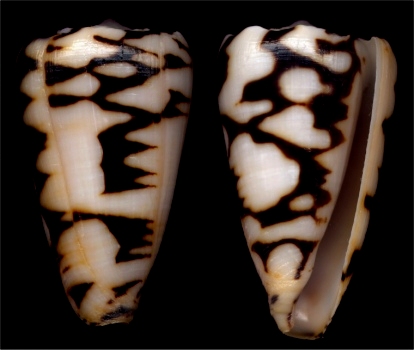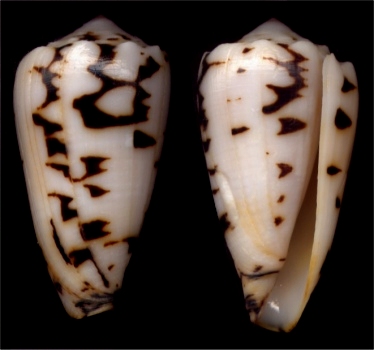 Conus marmoreus "bastard"46.5 mm & Conus marmoreus "bastard" 49.3 mm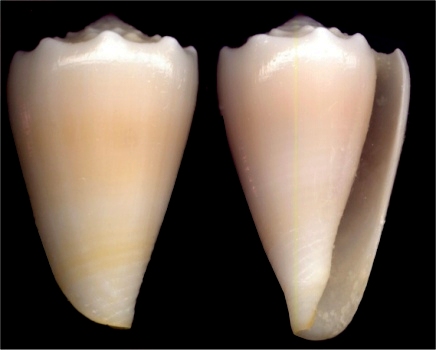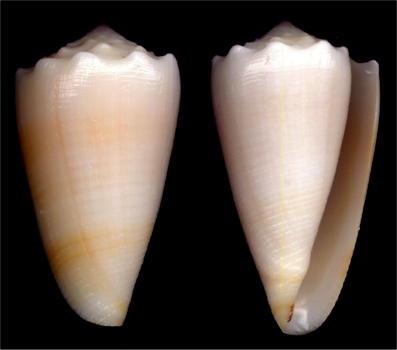 Conus marmoreus suffusus 36.0 mm & Conus marmoreus suffusus 44.4 mm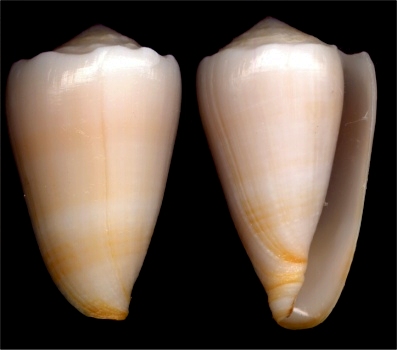 Conus marmoreus suffusus 47.7 mm