Dear all collectors,
I'm proud to announce the publication of two books : CONE SHELLS OF THE SEYCHELLES and CONE SHELLS OF THE MARQUESAS.
The first one is the second version of my earlier work (2019). The book have been re-written. The number of pages has doubled! The number of plates has increased too!
The texts face now the plates. The first version was built very differently. The number of specimens has increased too. More species were treated. The book can be used to identify most of the Indian Ocean cones.
The second work, with my friend Michel Balleton, is focused on the Marquesas archipelago (French Polynesia). These islands have an incredible number of endemics and we have established the most exhaustiv list never published yet with a lot images.
We worked a lot on all the expeditions led by many countries. The book reached more that 400 pages! So there are a lot of informations, a lot of plates and a huge molecular study!
Have a good reading!
CONE SHELLS OF THE SEYCHELLES 2nd version (third edition)
Language : French - English
Year of Publication : 2022 - Enhanced Edition
Number of pages : 320 ; Number of color plates : 102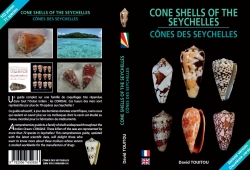 CONE SHELLS FO THE MARQUESAS
Language : French - English
Year of Publication : 2022
Number of pages : 416 ; Number of color plates : 127