Seashells & Art



Seashells & Art (2012)
By Virginia Enos



Spectacular places attract artists and I suppose that is one reason that I ended up making Hawaii my home. My childhood was spent fishing on the great rivers of northern California and that played a large part in my love for boats, travel and adventure.

When I was old enough to leave home I went straight to Hawaii and learned to scuba dive and free dive proficiently while working at my first job in a dive shop. These skills would serve me well, soon leading to a new position as a crew member on a private yacht on it's second world circumnavigation. All aboard were avid shell hunters and my interest in shells began.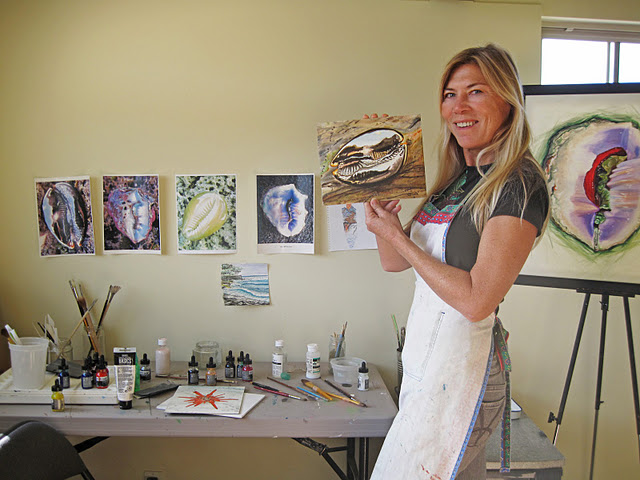 Quickly I became spoiled by the far flung and fantastically remote diving spots I visited on the western route from Hawaii to France. Taongi atoll (look it up), Apo reef in the Philippines, an unnamed atoll in the Maldives, and a deserted shoreline in the Red Sea were the places I remember the most. The owners of the yacht were amused by my sketches and drawings and I would trade with them for privileges that sometimes made the other crew members jealous.

One lazy afternoon at anchor in the Maldives I looked down to see the trail of a large conch that stretched out forever across the sandy white bottom. I grabbed my snorkel gear and dove in hoping to see it up close yet having no idea of the depth. It was too big to bring up and the water was very deep and it took more that one try to reach it. Knowing that the crew was watching I grabbed a handful of sand to prove that I did make it to the bottom. We were all amazed upon checking the depth sounder reading of 80 ft. I was invited to go on every deep dive thereafter. Upon my return to the US I was accepted to a maritime academy, met my future husband, and made a career for a while sailing as a deck officer. My husband is now a ship's pilot in Hawaii, our daughter is in high school, and I work as an artist on both Oahu and the Big Island.

My fascination with painting live shells comes from my belief that only in life can we truly observe objects in nature, for the spirit within comes through. Endless strolls on beautiful beaches hunting for sea shell treasures rarely produces a perfect specimen that has not been damaged by time or co-opted by a sneaky hermit crab. Yet a painting that evokes the feeling of that treasured find in a special place, in all of it's living glory can be enjoyed for years to come.

Thank you David for the opportunity to share my story, and for permission to use photos from your website. Most of my shell subjects were from my own shoreline hunting trips, but my work has become very popular and I am happy to have your fantastic photos to draw from.


My recent 8" x 10" shell pieces are done using my own method that I make from top to bottom. First I cut "canvases" from a large sheet on my table saw, apply 4 coats of sealer and primer, sand paper between each coat for an ultra smooth finish, then apply the acrylic ink painting, and 2 final coats of clear protective varnish. I developed this technique to achieve the effect of watercolor on a permanent and hardier material. The final surface is very smooth, is highly moisture resistant, needs no glass, and will last a very long time. They look fantastic in a simple wooden frame, or mounted directly on a wall unframed for a minimalistic appeal.

The markets of social media, word of mouth, local art shows, and internet store fronts have allowed me to stay out of high overhead galleries, keep my prices affordable, and ship worldwide. Find me online (could use some "likes" on my new Facebook page) at the links below or contact me directly if your are visiting Hawaii to see my work in person. I will be accepting commission work after my next show on November 28 and 29.

Aloha and Mahalo,
Gini Enos

ginienos@aloha.net
www.etsy.com/shop/VEnosArt
www.venosart.com
http://www.facebook.com/pages/V-Enos-Art
http://www.venosart.com/shells