Sailing down to the Grenadines
Sailing down to the Grenadines (2002)
By Touitou David, Updated : 03 March 2016


FIRST TRIP (2002)
We started the cruise in the harbor of Marin in Martinique. Then, we went south toward St. Lucia island where we staid a night in Soufirère bay. After this stop, we went more south to spend a day in Admiratly bay in Bequia. I did not find any shell in this bay, during daytime and even during night snorkeling.
The next day we went to Mustique. Here also i did not find many things, only a few Oliva shells. Then, we left Mustique and went down to Union island. I found during daytime, while snorkeling a few very old Conus cedonulli Linnaeus, 1767 beached where waves breaks on the beach side... that excited me !! Finally the first evidence of the presence of this wonderful species... I then snorkled all day and did not manage to find one... After lunch, i decided with my very small flashlight, to snorkle a while around the boat in 5-6 meters of water. After one our of snorkeling, I was getting really bored. I decided to dive a last time before going back to the sailboat in order to drink some great wine... What a surprise !! When my flashligh show me a neat huge coneshell crawling on the seabed... I accelerated my dive to catch... a huge specimen of Conus cedonulli live !! Last but not least... I got very excited and snorkled a while before being really tired and had to go go back to the boat with only one catch for this night ! I managed to keep this beautifull specimen live until we got back to Martinique Island to study it and was surprised to discover that it feeds like Conus regius Gmelin, 1791 on Hermodice carunculata ("fire worm"), see pictures below. This specimen has half of its shell having a blue color. What a nice shell !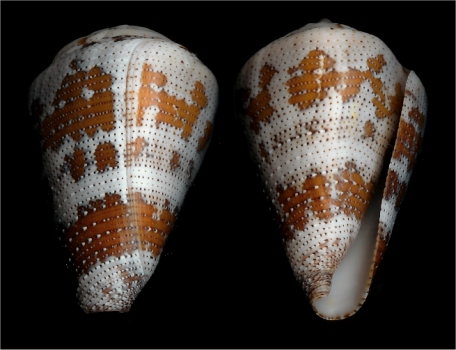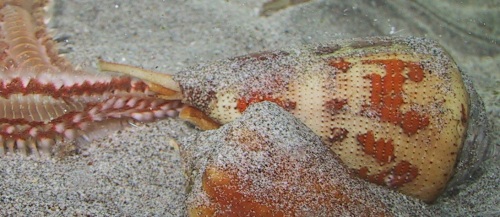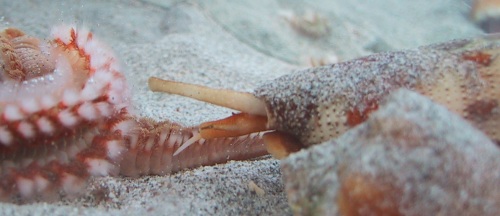 During scuba in the next morning i found a fresh dead Cyphoma gibbosum. We staid then several hours in front of the beautiful beach of Palm island. I found several Conus dominicanus, all old beached specimens though. We staid during the night in the small harbor of Union. The next day while walking on the island, we met a french women collector who stopped the collection years ago but still had some shells to sell. I bought her a strange Conus cedonulli, a zebra cowrie and two dark specimens of Chicoreus brevifron.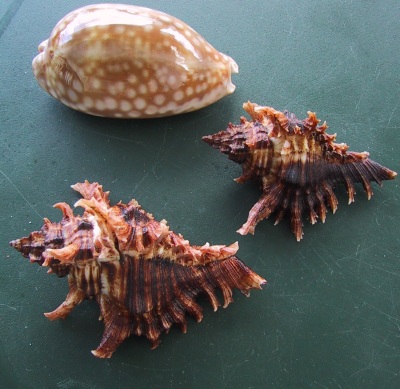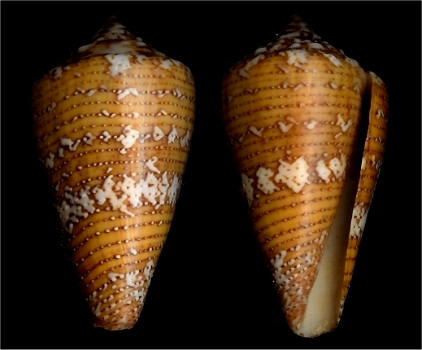 Then we spent 2 days in the real beauty of the grenadines : the Tobago Cays. It is really amazing but crowded. During the first day I did not find anything.
I snorkled for about one hour at night with another collector. We managed to see 2 zebra cowrie, one Voluta musica & one Conus pusio. On the very nice reef, during the second day, I found several cone shells species beached, like two C. pseudoaurantius Vink, DLN & R. von Cosel, 1985.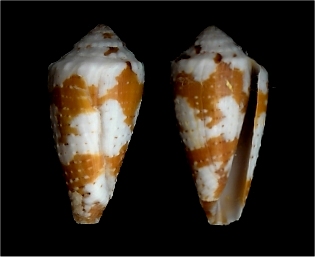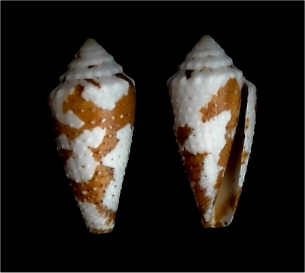 The next day we staid in Salt whistle Bay in Mayreau. I did not find anything there.
The water was not clear at all !! After this we started to return north, first to St. Vincent. We staid in Anse Boneaventure. I found some Conus cedonulli beached, many Conus ermineus Born, 1778 beached too, some common cowries (Cypraea acicularis & Cypraea cinerea) and some Strombus (raninus mainly).
The next day we stopped in Anse Cochon in St. Lucia. We saw many shells like Cypraea acicularis & Cypraea cinerea , Voluta musica & some beached Conidae. We slept in Gros Ilet and went back to Martinique the next day.
What a wonderful trip !!
SECOND TRIP (2002)
Well I had the chance to go back to Grenadines once more, before i leave definitively Martinique Island. We stayed there for 15 days. It was of course not a collecting trip. I was the only collector like the first trip.
But i managed to get my hands on some stuff. I Brang with me two full tanks for 15 days... and had no chance there to fill them again, and i kept these tanks for night scuba only. I must say that collecting there is very interesting mostly for coneshells collectors. It is difficult to find other interesting shells, and it is rare to find dead shells. I can find so many dead shells while snorkeling in Martinique... there it is quite different.
Here is the trip :
Martinique->St. Lucia(1day)->Bequia(1)->Union(3)->Petit St. Vincent(1 hour)->
Tobago Cays(2)->St. vincent south, Young Island(1)->St. vincent middle, Wallilabou(1)->
St. Lucia(2)->Martinique.
What did I found ? I only collected/hunted cone shells...
From Union island (Grenadines) I found 3 niceConus cedonulli Hwass, 1792.

I found them at night while scuba from 5 to 15m. One was found in 6m and the 2 others in 9m.
They all are about the same size (50-55mm). They are so different from St. Vincent ones.
They were hunting for worms in the algae fields (Zostera sp.) borders. I found them in the same area as the first one I found on the first trip.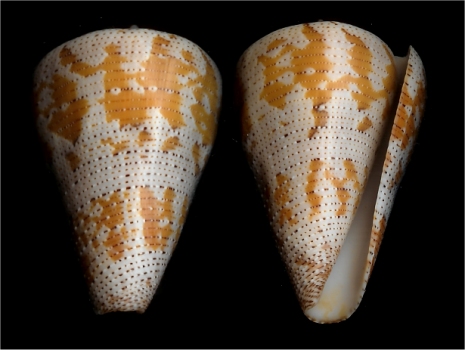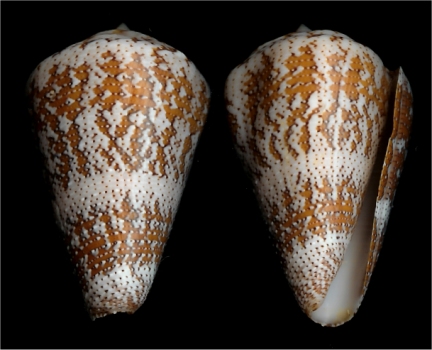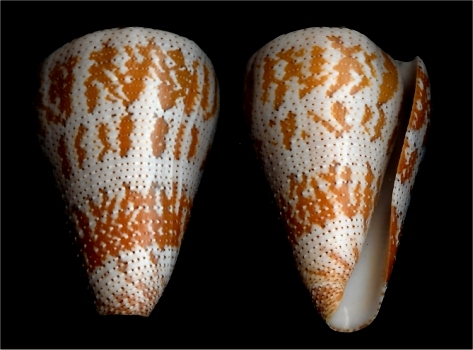 Then I found a dead Conus granulatus Linné, 1758 in Petit St. Vincent (PSV), just in front of the beach, after the reef. The size is > 40mm.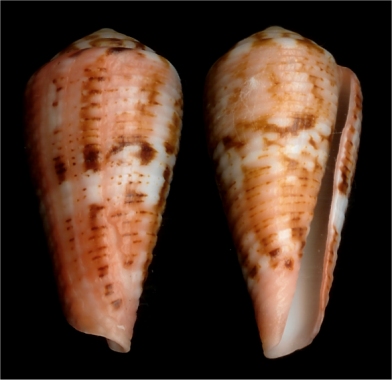 After what I found one Conus pseudoaurantius and some dead Conus ziczac Mühlfeld, 1816 on the Tobago Cays' reef.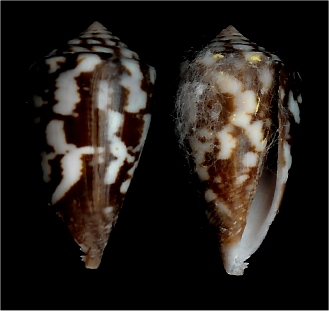 Then we went back to St. Vincent. I dove at night on algae fields on the west side of young Island. Between 5 & 15m. I did not found any C. cedonulli... I was upset. i only found Three Conus ermineus Born, 1778. The biggest is >80 mm.
I found one from the orange pattern variety as well. I did not remove all the periostracum as i prefer them with it.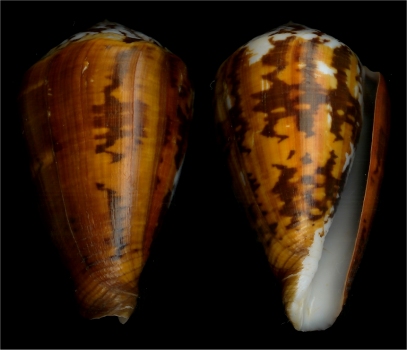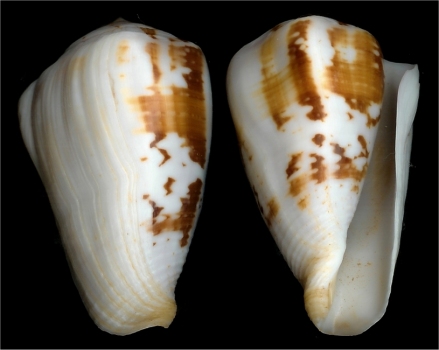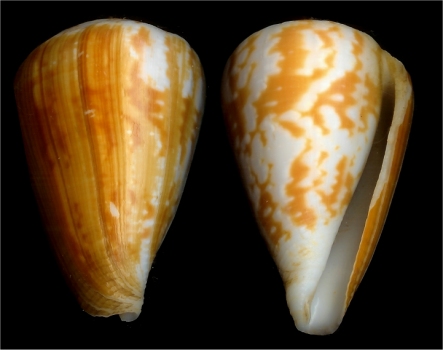 And after while we stayed the day on the west coast were C. cedonulli supposed to be found. We saw some dead ones there. But the captain did not want to stay the night there...
He was afraid for many reasons. So I DID NOT scuba at night, I spoted the algae fields there though !!! I was really very upset, as I had my two 15 liters full tanks ready... We stayed in Wallilabu Bay.
The only one wich do NOT have any algae fields of Thalassia sp. & Zostera sp. . I dove at night for 15 minutes from 5 to 25m and went back to boat, did not see anything... :( Then back to Martinique...