2 Days at Sanibel island (Florida) : Extreme Low Tide

Two Days at Sanibel island (Florida) : Extreme Low Tide (2015)
Author : Touitou David





Last december 2014 we had the chance to visit Florida (USA). This was a real great family trip. We spend 14 days there after an easy trip from France. Of course we visited Orlando famous parks : Universal Studios (2parks) and Disney Magic Kingdom. With 2 children of 7 and 11 we enoyed a lot Universal Studios parks compared to Disney Magic Kingdom (more crowded and old attractions, not that much spectacular). We also visited Evergaldes National Park : So nice with a very interesting Aligator Farm and it's so nice boat tour :) We spend also 4 days down to the Keys but we did not enoyed that much. Keys are very surprising but for snorkling it's not interesting at all (compared to what I have done by the past). We had a tourist tour to far reef but it was for noobs and we could not swin over the reef freely, we all had to stay close to the boats... a shame for us :( But that's always the problem with mass tourist excursions... However we saw some very huge barracudas in this cold water (at this time of the year). I tried to find some cones but only ugly dead ones came to me... (Lindaconus spurius atlanticus & Jaspidiconus pealii).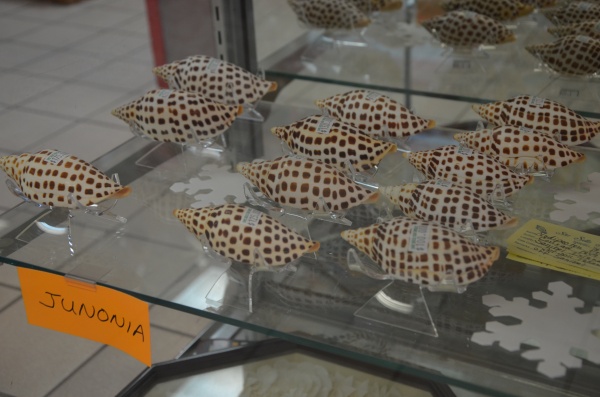 We planed two days to visit the worldwide known shelling place : Sanibel Island. It was a real astonishing island ! Everything is beautiful there. Riding bikes there was a great experience. We loved it. Houses, Hôtels, streets... all have shell names ! Water is quite ugly, nothing to deal with carribean clear waters, but every day thousands of shells can be found while easy beachcombing ! Atmosphere there is so quite ! This is a perfect spot to rest, trust me that island is cool. one of the best place I have ever been. Really. We spend also a great time in... restaurants ! Sea Food is so great and cheap ! Timbers restaurant is a MUST :)

The last day, we planed to walk at this huge low tide (just before leaving). What a surprise ! Thousands of empty shells could be founs just in front of Hotel ! So many people walking for shells. A tourist just found a huge junonia shell !!!! many olives trying to go back to fresh water... A strong souvenir for childrens and parents.


We have found a lot of empty shells there such as :
« tulip shell » Fasciolaria tulipa Linnaeus 1758
« lightning whelk» Busycon perversum (Linnaeus, 1758)
« lace murex » Chicoreus (Triplex) florifer (Reeve, 1846)
« apple murex » Phyllonotus pomum (Gmelin, 1791)
« lettered olive » Oliva sayana Ravenel, 1834
« stiff pen shell » Atrina rigida (Lightfoot, 1786)
"fighting conch" Strombus alatus Gmelin, 1791
« Atlantic giant cockl » Dinocardium robustum Lightfoot, 1786


Here are some images of this extreme low tide :