Trip To New Caledonia
Trip To New Caledonia (2003)
By Touitou David


During september 2003, I had the chance to fly from Tahiti to New Caledonia Island, a wonderful shell collecting spot.
This was my first trip there, on the amazing island. I was hosted by a couple of friends, also collectors, I met online and they were really nice with me, taking me to their favourite shelling spots.
Of course, I will not mention any spot to preserve them from overcollecting. First of all, the island. the first impression, excepted the cold at this part of the year, is what a wide island... you can drive for hours without seeing anybody. This a real wild country. Of course most of the people there live near the main city of Noumea.
Another surprising thing is the diversity of the landscapes and so of the shores which creates many very different habitats. That one of the reason why New Caledonia have so many very local endemic seashells.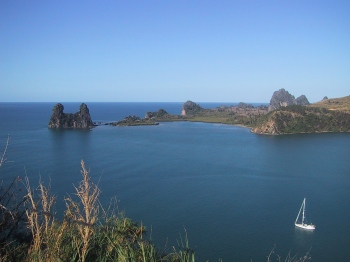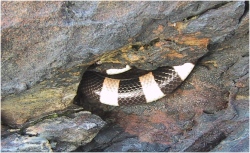 Concerning shell collecting, another advantage is the fact that you can collect during low tides on the reef itsefl without any need of snorkeling nor diving. You may walk on some spots, just in front of the beach and find amazing cone shells (such as giant Conus sugillatus and nice Conus ferrugineus f. chenui). We the nwalked at low tide but most of the time we snorkled and did some scuab too.
We only scuba in deep waters (50-60m) to catch few Conus moluccensis f. merleti, Conus circumcisus and Conus floccatus.
Here is a sum-up of the Cone Shells I collected during this short trip. Many species that I had already from Tahiti were not collected though.
And of course I had the "pleasure" to snorkle along with the local leathal sea-snakes...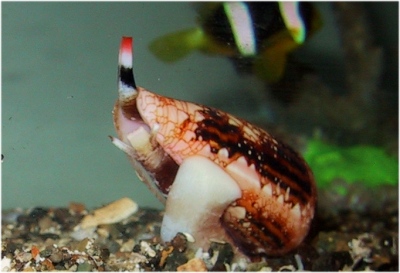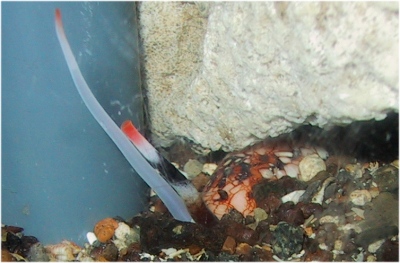 Conus legatus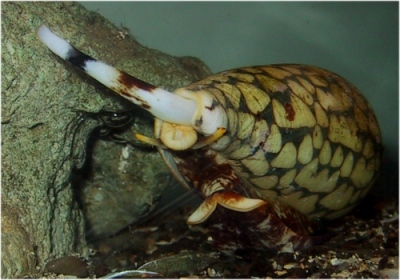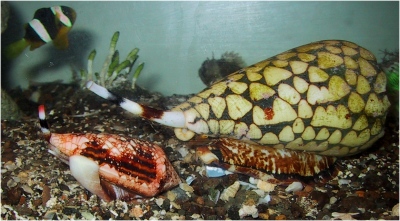 Conus marmoreus & Conus marmoreus with Conus legatus
| | | |
| --- | --- | --- |
| Conus arenatus Hwass in Bruguière, 1792 | Conus balteatus Sowerby I, 1833 | Conus bougei Sowerby, 1907 |
| | | |
| | | |
| --- | --- | --- |
| Conus canonicus Hwass, 1792 | Conus capitaneus Linné, 1758 | Conus coelinae Crosse, 1858 |
| | | |
| | | |
| --- | --- | --- |
| Conus coronatus Gmelin, 1791 | Conus ebraeus Linné, 1758 | Conus eburneus f. polyglotta Weinkauff, 1874 |
| | | |
Conus emaciatus Reeve, 1849

Conus episcopatus Da Motta, 1982

Conus exiguus f. cabritii
Bernardi, 1858
Conus ferrugineus Hwass, 1792

Conus ferrugineus f. chenui
Crosse, 1857

Conus floccatus Sowerby II, 1841
| | | |
| --- | --- | --- |
| Conus generalis Linné, 1767 | Conus granum Röckel & Fischöder, 1985 | Conus litoglyphus Hwass, 1792 |
| | | |
| | | |
| --- | --- | --- |
| Conus lividus Hwass, 1792 | Conus magus f. circae Sowerby II, 1858 | Conus marmoreus Linné, 1758 |
| | | |
| | | |
| --- | --- | --- |
| Conus marmoreus (local variation called "bastard") Linné, 1758 | Conus miliaris Hwass, 1792 | Conus miles Linné, 1758 |
| | | |
Conus molluccensis f. merleti
Mayissian, 1974

Conus monachus Linné, 1758

Conus muriculatus f. sugillatus Reeve, 1843
| | | |
| --- | --- | --- |
| Conus omaria Hwass, 1792 | Conus pulicarius Hwass, 1792 | Conus striatus Linné, 1758 |
| | | |
| | | |
| --- | --- | --- |
| Conus terebra Born, 1778 | Conus textile Linné, 1758 | Conus textile Linné, 1758 |
| | | |
| | | |
| --- | --- | --- |
| Conus virgo Linné, 1758 | | |
| | | |